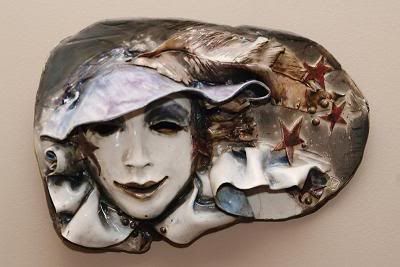 Photo by: John P. Ford
Yesterday, I found a LOVELY and special comment on my most recent blog post from
THAT GUY
at
MASS AFFECTED
blog site.
THAT GUY
shares blog sites he finds of interest on
MASS AFFECTED
and features particular blogs at times.
I think of
THAT GUY
as a searcher of what he sees as blogger talent! A Talent Scout! I love it! Please check out
THAT GUY'S
great blog and his well done post
here
on behalf of
PSYCHE CONNECTIONS
.
I have to say I got another real smile later this evening as I read
Alan's
LAID BACK THINK TANK BLOG
.
Alan
has created a recognition for the blog for the day and honored
Charli
at
BROKEN MANNEQUIN
. I would like to share that I see
Charli
and I as very much alike personal history and personality wise.
We share many things including a love for poetry and psychology and art....although we tend to approach things from different perspectives we often arrive at similiar places! I very much appreciate
Alan's
recognition of
Charli
and the great post he created for that recognition. Check out Alan's blog
here
. THANKS ALAN!
Much thanks to
THAT GUY
for featuring
PSYCHE CONNECTIONS
. This is an honor for me. The introduction to this blog is definitely thoughtfully and well done and much appreciated by this blogger! See what you think? I love the sentiment expresed! Thank you so much for thinking of
PSYCHE CONNECTIONS
and my attempt at blogging,
THAT GUY
.
THAT GUY
and
ALAN
, You are noted here at
PSYCHE CONNECTIONS
for being caring, connected, great blogger friends. You are a fantastic connection and a source of new connections for us all in this blogger community. I truly believe it is all about connections! Please check out
MASS AFFECTED
and
ALAN's
blog and see who you can discover!
Your comments and your thoughts are valued here. THANKS!